Learn all the cooking methods professional chefs use...

Join my
FREE 7-day
"Cookery Secrets"
eCourse
Completing this course will give you more confidence, the main ingredient in all recipes.
Remove the fear and feeling of uncertainty when you want to cook something.
Does my cooking taste good enough
When Food Items are too old to use
How to match Ingredients
The Methods Of Cookery explained
Planning your Meal
Theme your Meal
What's Fusion Cooking
Texture, Taste & Visual Appeal
Shopping Quantities
How to Consolidate Preparation etc.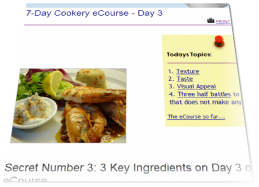 Of course, there will be many Recipes there
to learn from as well.
The last day will be a multiple-choice type exam - nothing too serious... I promise!

FAQ's:

Why is it free?

I enjoy sharing what I have learned over my ~25 years involvement as a chef. Communicating with people like you lets me do so.

How long is the course?

The course will be delivered in 7 separate sessions. Each session takes about 30 minutes to complete.

How does it work?

The course lesson topics will be emailed. Every 4 days, I'll send you a new link for the next lesson. You can then complete on-line in your own pace.

Do I have to pay anything?



No - The eCourse and the 25 Restaurant Recipes eBook are both completely FREE.

Will I try to sell something to you?

Inside the members area, you will have the option to activate my Personal On-line Recipe eBook Collection.

This is entirely optional. If you never buy anything from me, I don't mind! It's up to you...

Should you however decide to ever buy from me or click on any of the adverts you may encounter on my website, helps maintaining this site.What I do promise is, that I will not abuse the relationship we will, if your permit, develop.